| | |
| --- | --- |
| Christmas in Gothenburg - 2017 | |
Gothenburg is a cozy Christmas city where there is much to experience. We hope that this year can give our city a little sparkling snow.

We will advise you on what's going on in Gothenburg for Christmas. There will be music, christmas food, christmas lights, Christmas at Liseberg and much more. Below you will find a selection of christmas events.

Tip!
When you come to Gothenburg take a visit to the Gothenburg Tourist Office in the city center. They have an eye on all christmas events and here you can also get maps. You find two tourist offices in town - Kungsportsplatsen and Nordstan.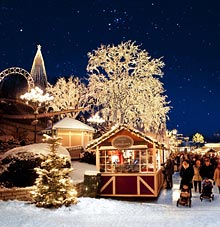 Christmas at Liseberg

On November 17, 2017 Liseberg opens up for Christmas.

Come and experience Liseberg in the winter. The entire park is illuminated by millions lights and from a distance, you see the big illuminated "tree". Here you find everything for Christmas: good food, mulled wine and gingerbread, skating-rink, Santa Claus, candy, song and music, christmas market, rides, ski slope, animals, ghost hotel, gifts, lusse buns and much more.

Christmas on Liseberg 2017 opens up Nov 17 nov and have opened the following days in nov: 18-19, 24-26 och 30. In december: 1-3, 5-10, 12-23 och 26-30.


( Closed on De c4 and 11 and Christmas Eve and Christmas Day).


More info about Christmas at Liseberg »
Photo/Source: Stefan Karlberg, Liseberg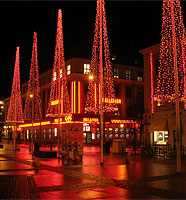 Göteborg in Christmas lights
We´ll be back with information for 2017



The Christmas lights will be lit in nice white lights on Nov 11, 2016 and with an extended lightning ceremony at Götaplatsen (Avenyn) on December 1th, when the whole city will be illuminated.

Christmas lights will go from Liseberg via Götaplatsen down along the Avenue all the way down to the port. There is lights on houses, in trees, on bridges and squares, etc.

The lights will be lit til Jan 8, 2017.

| | |
| --- | --- |
| | |
| Tyska Kyrkan 10 dec 2017 | Masthuggskyrkan 9 dec 2017 |
| Anna-Lottas Jul tickets » | Celtic Christmas tickets » |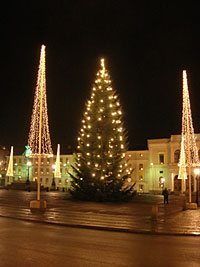 The Christmas Tree at Gustav Adolfs Torg
We´ll be back with information for 2017



Each year the Park and Nature Administration delivers a Christmas tree to Gustav Adolfs Torg. Every year, the Christmas tree will come

Also this year, the Christmas tree comes from Bollebygd and is also 18 meters tall. The Christmas tree is lit up on Friday, November 25 at around 3.30PM. It is usually transported by truck at night, not to disrupt traffic, in the same week as the first Sunday of Advent, this year on Nov 23.

The Christmas tree stands in place through 13 January 2017.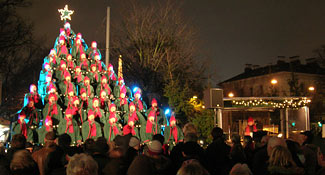 Singing Christmas tree
We´ll be back with information for 2017



The Singing Christmas tree at Kungsportsplatsen (near the statue Kopparmärra).
See and hear the singing Christmas tree choir a tradition since 2004 with inspiration from The singing Christmas Tree in New York.

1-23 december 2016, Kungsportsplatsen
Hours »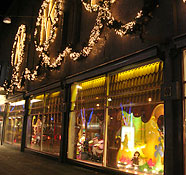 NK Christmas windows - Meet Santa
Nov 20, at 12 noon 2016



We´ll be back with information for 2017


Each year, it is exciting to wait for the Christmas windows at NK on Östra Hamngatan.

What is this years theme? Always equally exciting to see what is hiding in the large windows outside NK. On November 20th just before 12 (noon) the windows is revealed and Christmas comes to us all. Santa is also here.

Meet Santa Claus at NK: Starts Sunday Nov 20, at 12 noon -4 PM.

NK, Östra Hamngatan 42, Göteborg - to NK:s website »
| | |
| --- | --- |
| | Find a hotel in Goteborg during Christmas: |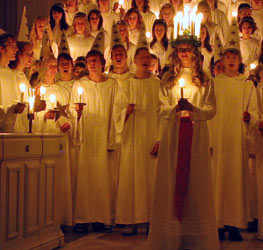 Lucia
We´ll be back with information for 2017



1940 was Gothenburg's first Lucia, 17-year-old Mette Sörviken from Utbynäs. Since 2015, the tradition of choosing the Gothenburg Lucia is ended. If it comes back in the future we do not know. But even if an official Lucia in Gothenburg is not selected she will spread light and warmth and singing during December with various Lucia concerts in various places in Gothenburg.



Lucia concerts 2016
Lucia concert in Domkyrkan, 10, 11, 13 dec, 2016: Tickets »

Lucia concert in Hagakyrkan, 17 dec, 2016: Tickets »



Photo: Lucia by Claudia Gründer via Wikimedia Commons.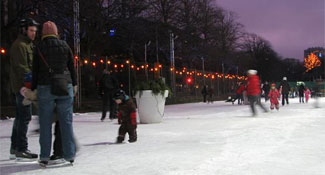 The Ice Rink at Heden

Go skating at Heden Ice Rink:
Opens in November til March. Café with coffee and snacks. Ice skates can be rented.

Information about Heden Ice Rink »

| | |
| --- | --- |
| Tickets | Christmas buffet in the Goteborg archipelago |
Advent Brunch

Date: Nov 25 - Dec 17, 2017 (Saturdays & Sundays)
Duration: approx 3 hours
Departs from: Lilla Bommen at noon

Brunch cruise onboard M/S Carl Michael Bellman in the Goteborg archipelago. On board it is served a Christmas buffet with delicacies and as finishing good desserts. This ticket include boat ticket, brunch and glass of mulled wine.
Book Advent Brunch

Christmas buffet

Date: Nov 21 - Dec 22,, 2017 (Thuesdays - Saturdays)
Duration: approx 3 hours
Departs from: Lilla Bommen at 6.30pm

Lotta Bäckström is serving us a delicious, extra green Christmas buffet with inspiration from the sea. The Christmas smorgasbord of Lotta is perfect for the ones who appreciate a healthy and tasteful Christmas food alternative.
Book Christmas buffet

Christmas dinner on M/S St Erik

Date: Nov 16 - Dec 22 , 2017 (Thuesdays - Saturdays)
Duration: approx 3.5 hours
Departs from: Lilla Bommen at 7pm

Christmas buffet with muisc in the Gothenburg archipelago. Cruise through the archipelago of Gothenburg in this beautiful ship from 1881 while enjoying a lovely Christmas dinner on board. You will also enjoy classic Christmas music.
Book Christmas dinner
Presented together with Strömma.
| | |
| --- | --- |
| Tickets | Paddan - Christmas Tour - with entry to Liseberg |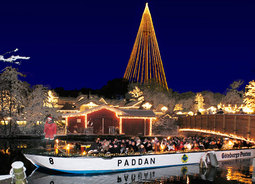 Paddan - Christmas Tour

Fridays to Sunday Nov 24 - Dec 17, and Dec 20-23 2017 .

Go with the Paddan boats straight to Liseberg. A cozy trip through Gothenburg on Christmas via the lock in Fattighusån.
Before the ride, there are hot glögg served with gingerbread cookies by the fireplace. The tour includes guided tours on the boat and entry to Christmas at Liseberg.

You can also book only the boat trip without entry. You can also book Christmas tours for larger groups.

Season: Nov 24 - Dec 23 , 2017 (Thuesdays - Saturdays)
Depart from:: Kungsportsbron (Kungsportsplatsen)
Time: 40 min
Free: Children under 6 years.
180 sv kr: Children between 6-15 years.

Book tickets to Paddan Christmas Tour here »
Presented together with Strömma.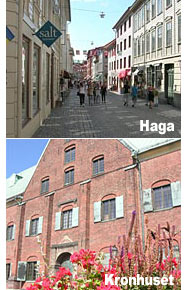 Christmas markets in Gothenburg
We´ll be back with information for 2017



Christmas is the time for Christmas markets and in Gothenburg, you'll find a few markets in different areas.

Nordstan: (18 nov-30 dec 2016). Inside the Shopping Center Nordstan is the Christmas market with about 40 stands. Everything from food to things.
More information: www.nordstan.se

Haga: (25 nov-16 dec 2017). Christmas Market in Haga, Gothenburgs cozy area with cobblestone streets, cafés and small shops. Sales in shops and markets outside at Haga Nygata.


Saturdays kl 10-16 och Sundays kl 11-16



Kronhuset: (27 nov-11 dec 2016). (Tuesdays - Sundays). Gothenburg's oldest house, you'll find in Kronhusbodarna just behind Gustaf Adolfs Torg. Here you will be met by Christmas decorations, scent of mulled wine, burnt almonds and, of course, all the market dealers.


Tuesdays-Fridays kl 11-18. Saturdays-Sundays kl 11-16



Gustav Adolfs Torg: (2, 3 and 4 Advent weekends and Dec 21-23, 2016). Christmas market at Gustav Adolfs Torg adjacent Nordstan shoppingcenter. Shop for Christmas gifts and Christmas food on the square..


Saturdays and Sundays at 9-16 and Dec 21-23 at 9-16.



Liseberg: (17 nov-30 dec 2017) Inside Liseberg amusement park you have a Christmas market filled with treats and presents. It is fantastic beautiful with all the Christmas lights. If you haven´t been here before do not miss a visit to Liseberg during Gothenburg Christmas time.
More information: www.liseberg.se

Frölunda Torg: (11-23 dec 2016).Inside the shopping center Frölunda Torg, you are invited to Christmas market. This year it is divided into two different Christmas markets: Design Crafts Market (Centralhallen) and Deli Market (Salutorget outside Hemköp). In the craft booths you will find ceramics, leather, mulled wine, mustard, jewelry and more and in the deli booths delicatessen. Frölunda Torg kicks off Christmas at 6pm on Nov 27, 2015 with a Christmas Lightning Ceremony, at the event "Black Friday".


Daily 11-23/12.


More information: www.frolundatorg.se

Welcome to the Christmas markets in Gothenburg

New Year in Gothenburg - New Years Eve 2017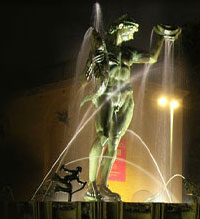 Celebrate the New Year at Götaplatsen

Come and celebrate New Years Eve at Götaplatsen. Starting at 23:30.

Now it has become a tradition in Gothenburg to celebrate the New Year at Götaplatsen. "No one should have to be alone on New Year '' is the message. The ceremony starts at 23.30 with speeches, film and countdown to the new year.

Sylvesterloppet at. 12 (Heden)
The same day the Sylvesterlopp take place with the start at Heden. 10 km on a two-lap track along the Avenue, Ullevi, Gårda through and around the Swedish Exhibition Centre.

Note! it is not allowed to fire off fireworks during the New Year celebrations.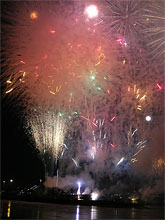 The GP yearly New Year firework

Kvillepiren - Gothenburg harbour - 31 dec 2017, at 5pm

A real New Year tradition is to dress warm and get down to the Goteborg harbour to see the fantastic New Year fireworks. People gather on both the city center area at Lilla Bommen, the Opera House, Masthugget and on the island Hisingen at Ramberget and along the harbour overlooking Lilla Bommen and the Opera House.

Expect queues if you come by car. Please remember to put on hearing protection on kids. Dress warm.

| | | |
| --- | --- | --- |
| | | ilovegoteborg.se i cooperation with booking.com |
Popular Christmas events in Goteborg!


We´ll be back with information for 2017
With reservation for changes.